The Sri Lanka beaches are well known for their idyllic looks and beautiful scenery. The country owns many beaches like these beaches listed below. Defined by many as one of the finest islands in the world, Sri Lanka has seduced travellers for centuries. Sri Lanka was famously described by Marco Polo as one of the finest islands in the world, and it has a history that dates back thousands of years.
From east to west the beaches vary from long golden ones to the perfect wind and waves. And the best part is, the majority of these Sri Lankan beaches are really as beautiful as you've seen in many of the guidebooks. Visiting beaches is an absolute Must Do in Sri Lanka!
The island of Sri Lanka has long been a popular beach destination with miles of gorgeous coastline that encompasses a jungle-clad interior home to remarkable ancient ruins, attractive tea estates and wildlife-rich national parks. It's the ideal place to combine a cultural tour with a bit of downtime at the beach, and it's equally as perfect for pure beach holidays spent chilling out at a resort Sri Lanka. And whether you're a couple looking for a romantic getaway, a family looking to entertain the kids or a solo traveller seeking peace and quiet, Sri Lanka has a beach for everyone – with our help, find your very own.
The area is a mostly residential suburb, known as Colombo's beach retreat it is famed for its "Golden Mile" of beaches and has long been a hot spot for tourism and nightlife. It is one of the most liberal regions in Sri Lanka and plays host to the island's annual Gay Pride and Rainbow Kite Festival since 2005.
Mount Lavinia Hotel Private Beach
The area is a mostly residential suburb, known as Colombo's beach retreat it is famed for its "Golden Mile" of beaches and has long been a hot spot for tourism and nightlife. It is one of the most liberal regions in Sri Lanka and plays host to the island's annual Gay Pride and Rainbow Kite Festival since 2005.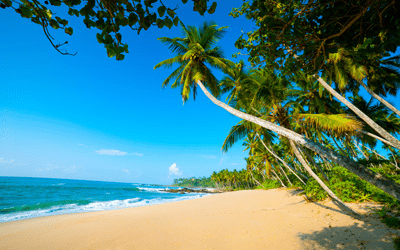 Negombo is one of the best beaches in Sri Lanka, frequented by international visitors as it is very close to the airport. The city of Negombo still shows Dutch characteristics in its architectures and is a must visit on your trip to Sri Lanka.
Take a bike trail and explore the beautiful village and a boat ride to explore the coral reefs
The blue lagoon is the most appropriate place for bird watching. The calm waters of the lagoon promise excellent diving and snorkelling experiences.
Take an elephant ride and tour the dense forest, discover the adventurous side of you while trekking through the forests.
Sights some whales and dolphins in their natural habitat and enjoy the breath-taking views of roaring waterfall especially during monsoon
Wadduwa is a town in the Western Province of Sri Lanka. It is situated on the western coast of Sri Lanka, about 33 km south of Colombo. It spans from 30.5 to 36.5 km area along the Galle Road, 4.5 km to the land side and 1 km to the seaside. It is also famous for its rich cultivation of coconut palms and as a major producer of toddy and vinegar. There are few historical places in the area such as ancient Catholic church. Wadduwa is popular for the products made from coconut fibre such as brooms, carpets etc.
Dickwella Beach ideal for Snorkelling
Dickwella is the home to some of the plush resorts where many newly wedded couples often come to celebrate their honeymoon. This is amongst the best beach places in Sri Lanka and offers the most tranquil environment. its long sandy beach which is protected by headlands, reefs and sand-bars, making it safer for swimming.
Dickwella is the location of Sri Lanka's largest seated Buddha statue, which is 50 metres (160 ft) tall. Walls in the rooms of the building behind the statue are decorated with a 'library' of colourful pictures depicting scenes from the life of the Buddha and punishments of miscreants.
Dickwella beach is another excellent spot for swimming
The cultural buffs must visit the Dickwella lace centre to see and learn the techniques of lace making
The calm waters of Hiriketiya beach are ideal for snorkelling
Enjoy some delectable dishes mainly seafood pasta and vegetarian curries
Unawatuna Shallow Water Beach
Unawatuna is a coastal village in Galle district of Sri Lanka. Unawatuna is a major tourist attraction and famous for its beautiful beach and corals easy access from Airport along the coastal road or new motorway of Galle, Unawatuan offer perfect opportunity to swim in shallow water and white sand beaches to relax and watch evening sunset. One of the best beaches in Sri Lanka which is famous for calm blue waters.
Enjoy some water sport such as scuba diving and snorkelling
Get some tan at the beautiful golden sand beach
Take some blessings at the Temple Yatagala Raja Maha Viharaya
Treat yourself to an Ayurveda massage and get pampered at the sanctuary spa
Relax at the Thaproban Beach House and enjoy some authentic Sri Lankan cuisine
This beach is famous for turtle nesting
Kalutara White Sand Beach
Kalutara offer beautiful view of river, popular Kalutara temple and white sand beach with numbers of luxury resorts to relax, while easy access to Colombo city centre, Kalutara beach is a popular beach among tourists due to its natural beauty. Kalutara Bodiya is one of the famous Buddhist temples built in the 1960s
Beruwala Picturesque Beach
Beruwala Beach is one of the most picturesque beaches to visit in Sri Lanka. Also known as the Golden Beach due to its shimmering golden sand, this beach offers a myriad of adventure activities. One could even enjoy a beach vacation in any of the resorts. The fringes of pam add more appeal to the whole scenery. It is one of the most amazing places to visit in Beruwala.
Famous for:
Long walks
Boat ride to International Lighthouse
Water scooter rides
Gem trading Fair
Bentota Beautiful Beaches
If you are looking for a Sri Lankan beach holiday and wish to stay at resorts that specialize in medicine centres and relaxing spa, Bentota is the place for you. It is one of the most beautiful beaches in Sri Lanka and is a perfect getaway for tourists who are looking to spend a few days away from the hustle and bustle of the city. It is also one of the best beach places in Sri Lanka The beach is highly popular and is one of the top beaches in Sri Lanka.
This beach is relatively less crowded
Try your hands-on water sports such as water skiing and canoeing
Visit the aquatic life protection centre and get an opportunity to release a turtle into the sea
Relax at the ayurvedic centres and enjoy a relaxing spa
Book yourself a river safari and whale watching
Start your morning with a bicycle tour of the city
Induruwa family-friendly Beach
Induruwa Beach is situated in the coastal village of Induruwa close to Bentota.
Induruwa Beach is situated in the coastal village of Induruwa close to Bentota. This fishing village with white sandy beaches is great for surfing and relaxing by the sea. This coastal beach side village with its family-friendly beaches is a great place to relax during any time of the year.
Nestled along a small ravine in the west coast, was once a sleepy fishing village today however it has turned into a major hotspot for tourists looking for white sandy beaches with perfect surf to relax in. The town caters all types of accommodation facilities from star class to beach villa style accommodation.
Galle is one of the most visited beaches in Sri Lanka. It tops the list of beaches in Colombo. With a wonderful history; Galle amazes you by the architectural beauty, the tropical weather, the aroma of spices such as the cinnamon and cloves and more. The picturesque environment of Galle often pulls many foreign artists, poets, and writers.
Galle Fort in the Bay of Galle. it was built first in 1588 by the Portuguese, then extensively fortified by the Dutch during the 17th century from 1649 onwards. It is a historical, archaeological and architectural heritage monument, which even after more than 432 years maintains a polished appearance, due to extensive reconstruction work done by Archaeological Department of Sri Lanka.
Visit the old town of Galle to see its architectural beauty
Take a tour of the Martin Wickramasinghe Folk Museum Complex to experience the rich Sri Lankan culture.
Explore the city on a bike, visit the Japanese peace Pagoda and enrol for yoga and Pilates class in Niyagama House
Sinharaja Forest Reserve is a must visit if you want to see Sri Lankan wildlife at its best
Deep sea fishing tours and whale watching tours are a must!
Mirissa Beach -Boat Trips for Spot dolphins and whales
Number three on our list of best beaches in Sri Lanka is Mirissa. With views of aquatic wildlife in its natural habitat, Mirissa attracts people from all over the world come to Mirissa for both ecological purposes as well as for holidays.
Famous for:
Mirissa is one of those beaches in Sri Lanka which is ideal for swimming.
West side of the beach is known for water sports, especially surfing, and a small coral reef
Spot dolphins and whales, if you visit in December, you may spot turtles laying eggs too.
Hire a boat and go fishing with the locals near the coral reef.
Enjoy a relaxing Ayurvedic massage in Ayurveda centres in Mirissa
A River safari would definitely money well spent as you could see nature at its best, well spread-out paddy fields hovered by migratory birds and water animals are definitely a treat to eyes.
Weligama Beach- Ideal for Surfing
One of the best beach places in Sri Lanka is the Weligama beach on the southwest coast of the country. It is touted to be Sri Lankas most beautiful beach. You can click selfies here with your squad and your loved ones. Make sure to put those pictures up on Instagram for everyone to see.
Famous for: It's the most ideal beach for surfing as there is no danger of sharks
A perfect destination to enjoy diving and snorkelling as it is guarded by shallow coral reef.
Enjoy the most amazing views of stilt fishing
Leper king statue-it's a carved statue of an old king whose identity is not yet known
Weligama lace weaving factor is a must visit. Here you can see women weaving lace which is also sold to a tourist. Also, the gem and jewellery factory are a must visit.
Hikkaduwa Beach is characterized by some of the plushest hotels and nightclubs. This feature often attracts many overseas tourists. It promises loads of untouched natural beauty and relaxation for both body and soul. If you're considering a budget trip, you can maybe give this beach a miss and go for the other shortlisted best beaches in Sri Lanka.
Famous for:
Indulge in some shopping spree in the local markets and treat yourself with silver jewellery and gemstones.
Enjoy authentic Sri Lankan cuisine at the beach side cafes and party late in one of the best nightclubs
Be a part of the local community in celebration of the Hikkaduwa Beach Festival
Learn some facts about the turtles and the coral life at the Coral sanctuary where the turtle eggs are buried in the sand for hatching.
Take a boat ride on a glass bottomed boat to have a look at the most beautiful aquatic life in the coral sanctuary
Koggala Beach- Ideal for Diving and Snorkelling
Tucked away in the south western corner of the country, Sri Lanka's Koggala beach is a serene Paradise for beach lovers, far away from the busy bustle of city life. The unexplored and pristine beach of Koggala, with palm trees dotting the wide stretch of sand, is the longest beach of Sri Lanka.
The open blue waters at Koggala Beach are one of the most popular destinations for water sports in Sri Lanka. Apart from a number of fish species, the waters of Koggala also abound in sea turtles and white sea sharks. The reef break in this region makes it a perfect spot for surfing enthusiasts.
The rich marine life of the Sri Lankan waters in this region also provides a perfect diving and snorkelling opportunity. Windsurfing and Kitesurfing activities can also be enjoyed here.
The scenic beach is an ideal locale to observe the stilt fisherman at work. These traditional fishermen, indigenous to the country, practice their art in a unique method and style, and are a sight to behold if never seen before.
The surfer's paradise, Arugam bay located 320 km from Colombo and believed to be one of the top 10's surfer points in the world, with water temperature of 24-28ºC all around the year, where you can surf without wetsuit, it is small remote fishing village located southern east of Sri Lanka and on the edge of Yala national park.
Arugam Bay is amongst the top beaches in Sri Lanka known especially for surfing. The blue waters of the Arugam bay provide ample opportunities for fishing and underwater photography.
Famous for:
Arugam Bay is synonymous with one of the best surfing points across the world. You can rent all the basic equipment from the locals shop and indulge in this activity.
Book a lagoon tour which provides a slow and relaxing journey through the hidden treasures of Pottuvil lagoon.
If you happen to visit the Arugam bay during off season you would be amazed to see millions of migratory birds.
Plan a walk to the Elephant Rock while enjoying the serenity of this marvellous beach.
Visit the Hulannuga Caves which is situated on top of the hill is the home to the reclining Buddha statue
Plan a trip to the Yala East National Park which is indeed the twin of the Yala Ruhuna National Park is famous for elephants and leopards.
Batticaloa is in the eastern coast of Sri Lanka on a flat coastal plain boarded by the Indian Ocean. There are several lagoons within the Batticaloa beach, Batticaloa beaches are sandy and located along 4 /5 km shoreline in the city and further extend through the neighbouring places
Uppuveli Beach is just north of Trinco, in the Trincomalee District on Sri Lanka's east coast. Here, the bleached-gold sand is lapped by calm, gentle waves. The beach is pretty undeveloped and peaceful, with just a scattering of hotels, restaurants and shops along the beachfront. There are sun loungers for hire and shady spots beneath the palm trees; visitors can also try paddle-boarding and kayaking.
One of the finest natural deep-water harbours in the world, located in the eastern seaboard of Sri Lanka approximately 245km from Colombo. There is an account of "Gokanna", as it was known during the Anuradhapura and Polonnaruwa period, attracting great sea fares in the calibre Marco Polo and Ptolemy. The empire building British fortified it with fort Fredrick, which stands guard to this day with cannons intact, the approach of the natural harbour the other is the small Dutch fort both stand together. Famous swami rock (lovers leap) is inside the fort where one could dive into the deep water off a cliff next to one of the "Koneswaran" one of the oldest Hindu kovils on the Island. Most of the beaches in the area are wide and the water is crystal clear and one place not to miss is the marble beach, best you use the selections of hotels that will give you a bird's eye view of the China bay.
Uppuveli Beach for Whale Watching and Diving
Just north of Trincomalee on the east coast, the sleepy village of Uppuveli is a great option if you want a beautiful beach well off the beaten track. Proximity to the former civil war zone means that this seemingly endless swathe of soft white sand lining the coast remains remarkably unspoiled. Development is happening gradually and there is now a reasonable selection of excellent hotels and guesthouses. The area is also developing a reputation as a centre for whale-watching and diving.Uppuveli, just 6km north from Trincomalee, is a fun little coastal enclave consisting of a fine beach of golden sand, a few hundred locals, a score of places to stay and eat, plus a seemingly unlimited supply of fresh seafood.
Polhena beach is a large sea pool which has a uniform height up to a large distance from the coast. And due to the coral reef, the tides are blocked. Therefore, the water is very calm and relaxing. This is done to protect and secure the tourists who are especially enjoying quality time with their families and friends in Matara. These characteristics make it a perfect place to have a sea bath in Polhena Beach It is relatively more famous among Sri Lankans than the tourists.
Kalpitiya is often cited as the future of tourism in Sri Lanka since it has a number islands in its lagoon that seem ripe for development. A tourist zone has been established there and plans are on the drawing boards for five-star hotels and property development. Kalpitiya is in the north east of Sri Lanka, 35km north of Puttalam and about three hours' drive from the airport.
The hotels that have been developed offer a welcome atmosphere of tranquil seclusion; they are new, informal in character and professionally run with diversions such as visiting the Wilpattu Nature Reserve by boat, whale and dolphin watching and even kite surfing. The area is fringed with mangroves, rich in birdlife and one of the few places in Sri Lanka to see the dugong.
Matara. These characteristics make it a perfect place to have a sea bath in Polhena Beach It is relatively more famous among Sri Lankans than the tourists.
Tangalla was originally a small fishing village, and fishing is still the main income for many of the locals. Tangalla suffered grievously from the tsunami in 2004, and rebuilding has been very slow. The beaches are not exactly packed with tourists and are very peaceful.
What gives Tangalle added appeal, however, is the number of rewarding attractions in the surrounding countryside, including the Hoo-maniya blowhole, the giant Buddha and gaudy shrines of Wewurukannala, and the magnificent rock temples of Mulkirigala, all of which can be combined into a rewarding half-day excursion. In addition, the nearby beach at Rekawa is Sri Lanka's premier site for turtle-watching, while dedicated ornithologists might also fancy a trip to the little-visited Kalametiya Bird Sanctuary, which can be combined with a visit to the mysterious plateau at Ussangoda.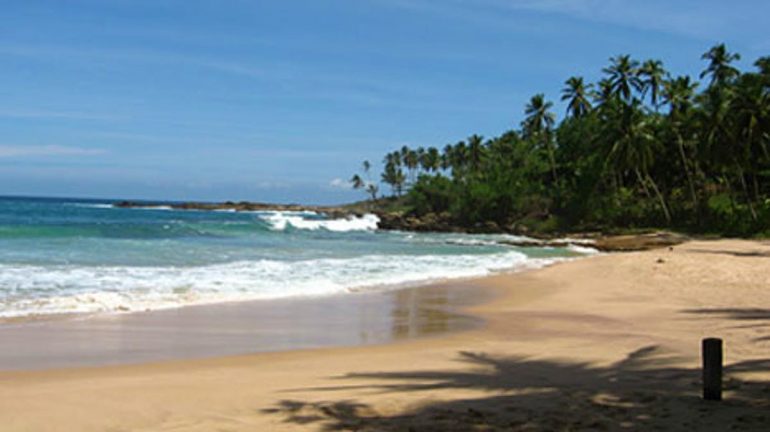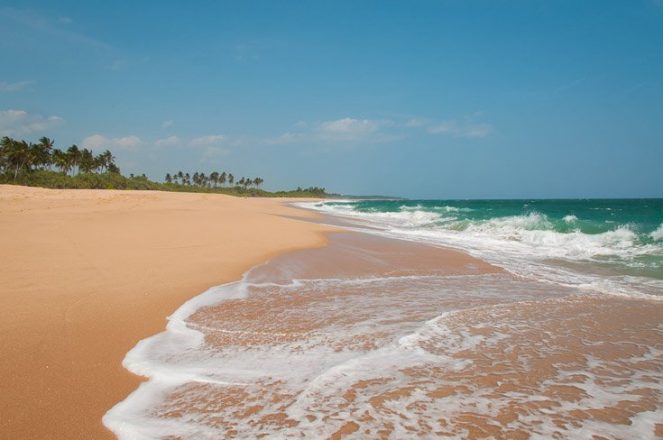 Sea turtles are seen very often at the Rekawa beach Sri Lanka, which is located 10 km east of Tangalle Sri Lanka. Rekawa beach is not only one of the best places to spot sea turtles only in Sri Lanka but also in the world. In Rekawa you can observe the ancient ritual of turtles coming ashore and laying eggs.
Turtle beach Sri Lanka in the south coast of Sri Lanka is one of the best natural habitats to spot endangered sea turtles. Sea turtles are seen very often at the Rekawa beach Sri Lanka, which is located 10 km east of Tangalle Sri Lanka.
Rekawa beach is not only one of the best places to spot sea turtles only in Sri Lanka but also in the world. In Rekawa you can observe the ancient ritual of turtles coming ashore and laying eggs. Rekawa beach is visited by five different species of sea turtles, which lay their eggs in the sand every night throughout the year.
There are many places in Sri Lanka where you can check on endangered sea turtles, starting from Kalutara, Bentota all the way up to deep south there are dozens of sea turtle conservation farms. Usually, these sea turtle conservation centres are visited by foreign tourists and a part of the most Sri Lanka road trips. The tourists should pay for the entrance to these centres and it is the main income of the sea turtle conservation centres.
The sea turtles are restricted to big tanks in all these places and their movement is restricted. But, unlike all these man-made sea turtle conservation centres, In Rekawa sea turtles are totally free, no human intervention with their activities. Maybe that's the reason why so many sea turtles are coming to Rekawa beach for nesting.
Marawila is small fishing village located North west of Sri Lanka, beach along this stretch is sandy and wide, Ideal for relaxing holiday with possibilities of overnight stay trip to most popular tourist attractions
Marawila is located on the west side of Sri Lanka, north of the larger town of Negombo. The hotels here have become popular with visitors looking for a quiet and relaxing holiday away from the hustle and bustle found in some of the nearby larger holiday resorts.
Hikkaduwa Beach ideal for Surfers
Hikkaduwa is almost 100 kilometres south of Colombo, has long been known as Sri Lanka's most popular beach. Glass button boat trips to watch seabed make unforgettable holiday experience.  this city offers variety of activities and outdoor eating facility than any other city in the country.
Famous for its long sandy beach, west-coast Hikkaduwa also boasts good waves for surfers, reefs for snorkelers and divers, plus sand-side hotels, restaurants, and bars, also you can visit an island temple, tsunami museum, and turtle sanctuary, and you have one of Sri Lanka's best beach-holiday haunts.
Hambantota Beach for Snorkelling and Diving
Hambantota is another developing city of southern city of Sri Lanka. This fishing village got lots to offer including: beautiful beaches, luxury hotels also nearby international cricket ground, newly build Mattala International Airport, Bundala National park is few miles away for Birds lovers.
The Hanbantota Beach is idyllic and its picturesque views have captured the hearts of many over the years. It is a great beach to visit for snorkelling and diving opportunities. Hambantota is also a historic town, with its roots dating back to as 200 BC.
Sri Lanka's southern coast is home to many more serene and beautiful beaches in addition those mentioned above. Finding accommodation and places to eat will be a breeze, given their popularity as tourist destinations. Each beach is a promise of glorious views, delightful scenery and a truly relaxing atmosphere – ideal for your next beach vacation.
Pigeon Island – For the Best Coral Reefs
Pigeon Island National Park is one of the two marine national parks of Sri Lanka. The national park is situated 1 km off the coast of Nilaveli, a coastal town in Eastern Province. The island's name derives from the Rock Pigeon which has colonized it. The national park contains some of the best remaining coral reefs of Sri Lanka. Pigeon Island was designated as a sanctuary in 1963. In 2003 it was redesignated as a national park. This national park is the 17th in Sri Lanka. The island was used as a shooting range during the colonial era. Pigeon Island is one of the several protected areas affected by the Indian Ocean tsunami in 2004.
Pigeon Island consists of two islands; large pigeon island and small pigeon island. The large pigeon island is fringed by a coral reef, and is about 200 m long and 100 m wide. The small pigeon island is surrounded by rocky islets. The national park is situated within the dry zone of Sri Lanka. The mean annual temperature is around 27.0 °C (80.6 °F). The annual rainfall ranges between 1,000–1,700 millimetres (39–67 in) while most of the rain is received during the North-eastern monsoon season from October to March.